Forgive me in advance, I do know that shorter blog posts are easier to read, but there is SOOOO much you need to know, this one will take time. But believe me, it's worth the read.
Blog trains:
I will be participating in 3 different blog trains starting May 1st, and one that starts May 4. I've already scheduled my posts, so look out for them! There will be a lot of posts on May 1st, so be prepared. Oh, and seriously - clear out some hard drive space because you are going to be downloading like mad :)
Design Challenge Freebies
I had to drop out of the Brownie Scraps challenge last week as I wasn't able to get my kit done in time. But the good news is I signed up for another design challenge and there will be freebies from that one. The first set of freebies goes live May 1st. I'll link you up.
NSD (National Scrapbooking Day):
HUGE things happening in scrapbook land this weekend, I am going to lay out for you what is going on at the sites I sell at CT at.
1.
Bouquet of Pixels
- the entire store (mine and all the other designers) is 40% off. We will be having a blog train where you can get some freebies, and a store scavenger hunt where you can pick up free pieces of a stunning collab. Look for previews on the 1st. There are also forum challenges for more prizes, including a Speed Scrap I am hosting Friday Night. Here is the flyer:
2.
Brownie Scraps
- lots happening here, including sales, a blog train, challenges all weekend, and an Awards Show. I'll be hosting a bingo on Saturday as well as a 'scrapflip' challenge all weekend. Here is the flyer: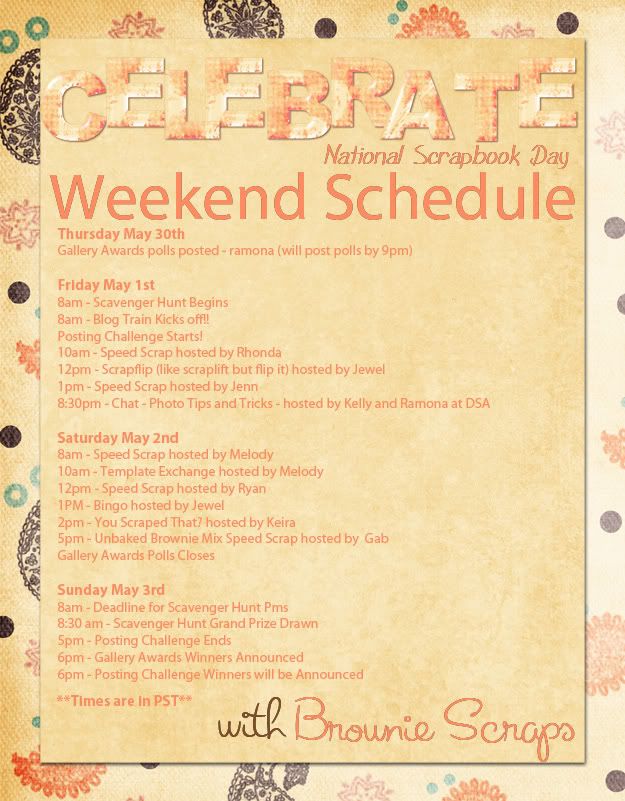 3.
Digital Candy
- huuuuuge things here this weekend. Challenges, Scrapathon, speed scraps, chats, and loads of goodies you can pick up along the way. Here is the flyer:
4.
Pretty Scrappy
- I don't have a flyer for this, but there are at least 4 speed scraps over the weekend, including one hosted by me Saturday night, as well as bingo and weekend challenges. Oh and a scavenger hunt for an NSD collab kit.
WHEW!!!! Ok I think that is all of it! Scrap with me all weekend and you will not only have some fantastic pages done, you will get LOADS (and I mean loads) of freebies! Like I said, I'll have lots of posts on the 1st, so read carefully. I am so excited!